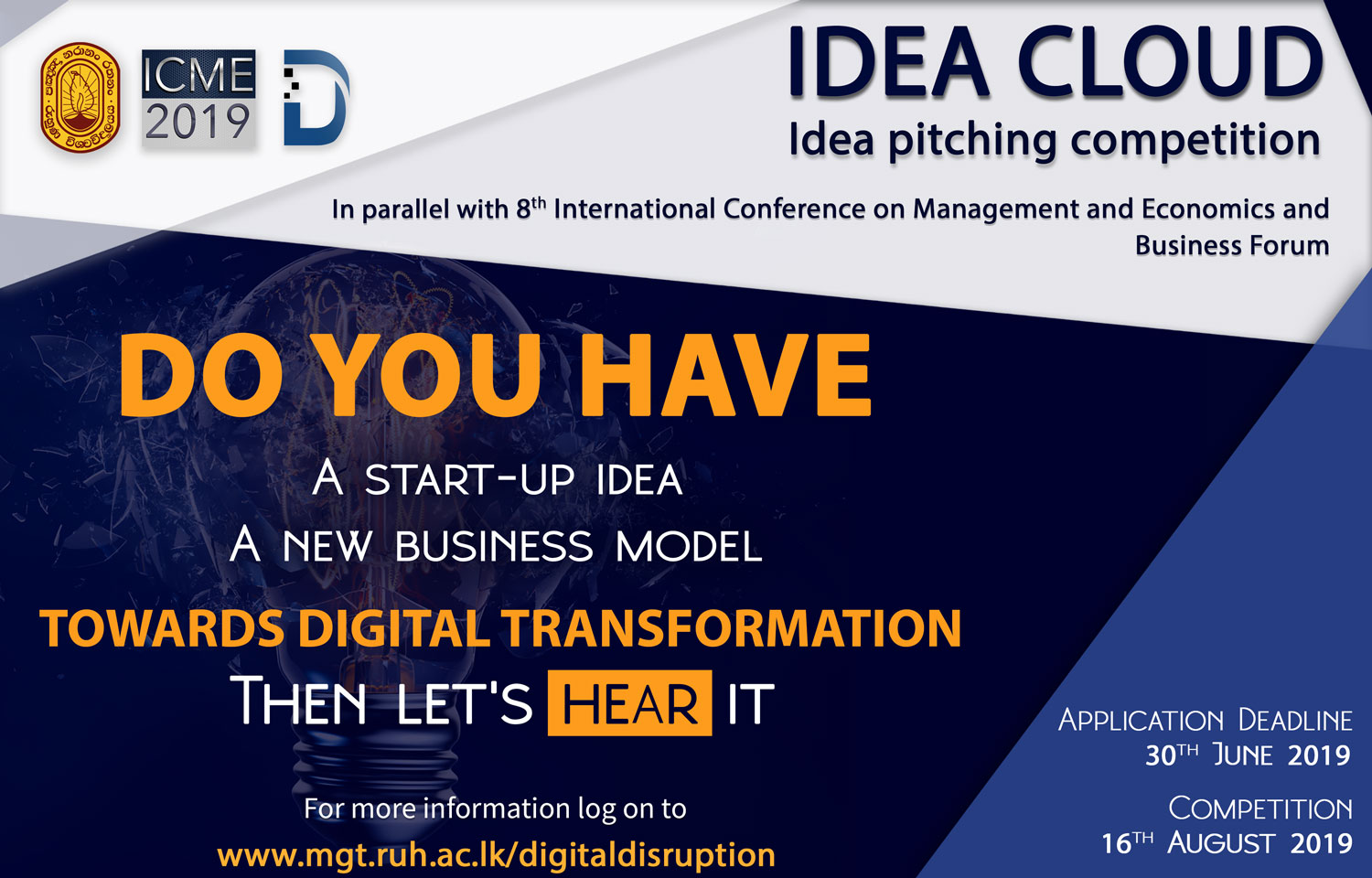 What is Idea Cloud?
Idea Cloud is a competition where researchers, entrepreneurs, practitioners, and students can pitch their ideas which have an impact on the digital transformation in Sri Lanka. The main objectives of this competition are to provide an opportunity to make a contribution to the digital era of the economy and bridge the gap between idea generators with the industrial demand.
Who can pitch?
Researchers
Entrepreneurs
Practitioners
Students
What can be piched?
Infrastructural improvement
Brandnew processes or devices
What is the application process?
Proposal Submission
Competitors should prepare a complete document explaining the idea with the following components.
Introduction
Problem Statement
Your Solution
Feasibility study
Tentative implementation procedure
and submit on or before 30th June 2019 to



Along with the document mentioned about, you can send video clips, presentations, and prototypes.


Evaluation Process
The Ideas will be evaluated in two rounds as preliminary and final. In the preliminary round, the evaluation process will be done by a panel consists of academics and other experts in specialized in relevant areas. The main selection criteria would be;
The contribution
Originality
Feasibility
The designers of the selected Ideas will be informed and invited to mentoring sessions, where the competitors can get feedback from experts of relevant fields.
The final round will be commenced on 16th August at the event of Digital Disruption. The final evolution panel may consist of the forum panelists, academics and the audience.
Mentoring Sessions
Participants will be given an opportunity to get feedback from experts of the relevant domains and participate in mentoring session leading to the fine-tuning stage.
Piching
As the final stage, the competitors will be pitching their complete ideas in front of the forum panelists and other experts in various domains. The pitched ideas will be evaluated and ranked as 1st, 2nd, 3rd and participants.
Key Dates
| | |
| --- | --- |
|  Proposal submission deadline | 30th of June 2019 |
| Notification of acceptance | 05th of July 2019 |
| Mentoring Sessions | 10th July 2019 |
| Pitching Competition | 16th of August 2018 |