Wijesinghe K.M.U.D., (Mr.)
MBA (Col, SL), BBA (Ruh, SL)
---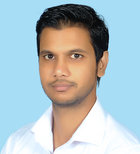 Lecturer
Department of Marketing
Faculty of Management and Finance
University of Ruhuna, Matara
Sri Lanka
Email: This email address is being protected from spambots. You need JavaScript enabled to view it.
Mobile: +94 768763285
Fixed Phone:
---
BIOGRAPHY
Mr. Uchitha D. Wijesinghe is a lecturer attached to the Department of Marketing, Faculty of Management and Finance, University of Ruhuna. Uchitha completed his bachelor's degree specialized in Marketing Management with First Class Honours at the University of Ruhuna. He was also awarded with the Vice Chancellor's Gold Medal by the Senate of the University of Ruhuna at the general convocation 2018 for his overall performance as an undergraduate. Later, Uchitha completed his Master of Business Administration degree in Marketing at the University of Colombo in 2021.
---
CONFERENCE PROCEEDINGS & PRESENTATIONS
Wijesinghe, U.D. & Sirisena, A.B. (2018). An Empirical Analysis of Dynamics of Price Sensitivity. Paper Presented at the International Conference on Management and Economics, University of Ruhuna, Matara, Sri Lanka.
---